Torque Release Technique (TRT)
Thompson Technique
For centuries, chiropractic care has continued to evolve and improve. This innovation has led to the birth of the newest chiropractic technique called Torque Release Technique (TRT). TRT has been proven through research to be one of the most specific and scientific chiropractic techniques in the world. TRT is the first chiropractic technique of the new millennium and provides practice members of any age with some of the most gentle and reproducible chiropractic adjustments available.
The other chiropractic technique that Drs. Jacob and Claire use is Thompson Technique. This technique utilizes a segmented drop table that allows for a more gentle adjustment to be performed by reducing the amount of force applied. This technique focuses on a high velocity low amplitude adjustment which allows it to be very safe and effective for all ages.
Drs. Jacob and Claire have vast experience in using and applying these specific techniques and participate in regular continued education and training regarding TRT and Thompson. This means that our approach always remains consistent and up-to-date with any new regulations or methods.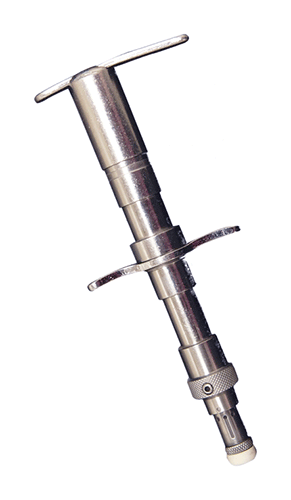 Understanding Torque Release Technique
In the most simple terms, TRT is a gentle and targeted method. It is highly regarded in the chiropractic field since it specifically pinpoints neurological imbalances, guiding the body toward healing and recovery. At Reignite Chiropractic, our mission states that we aim to provide the highest quality of care possible. This is why we use this method and why we ensure all our team members stay on top of the latest regulations, philosophies, and techniques relating to TRT.
How TRT Works
TRT is a very precise technique, targeting specific areas. It uses a special instrument, the Integrator, to make these adjustments in very specific regions. Like all chiropractic techniques, TRT is non-invasive and drug-free. It contributes to the realignment of your spinal column, corrects neurological impairments and improves brain-body communication. TRT incorporates gentle adjustments with zero cracking, popping or twisting. It's comfortable and stress-free, which is why Drs. Jacob and Claire use it in combination with Thompson Technique at Reignite Chiropractic.
Improving Your Spinal Health
TRT and Thompson Technique use gentle pressure along specific points of the spine to create impulses that guide your spine back into proper alignment. When your spine is aligned, it alleviates tension on other structures, such as the spinal cord, nerves and muscles. These techniques achieve this by improving communication pathways between your brain and spine. This allows your body to function as it should and use its natural, God-given, self-healing abilities.
Improved spinal health results in whole-body health. Maintaining your spinal alignment is one of the best things you can do to achieve better health, without injury, pain, or illness standing in your way!
What Ages Can Benefit From Chiropractic?
TRT and Thompson Technique is appropriate for individuals of any age. From newborn infants and children to adults and seniors – anyone can benefit from these specific, neurologically-based chiropractic adjustments. The Reignite Chiropractic team is excited to meet you and encourage individuals of all-ages to book their chiropractic appointment today!
How Quickly Does It Work?
Every person is unique and have walked through different season of life! Thus, the time frame in which you may experience relief from your symptoms may vary. Some individuals report immediate relief, while others may require numerous adjustments before noticing improvements. This time frame depends on various factors which the Doctors can assess when you come in.
Drs. Jacob and Claire encourage each person to practice patience throughout the process. Our techniques help to enhance your body's natural healing abilities. Yet, how quickly this happens depends on how severe your situation or impairment is. Chiropractic care takes a whole-body and holistic approach to health. As such, we promote continued visits even after you've noticed improvement. With the right team, chiropractic care can be your salutogenic approach to health and wellness!
If you're looking to improve your health and wellness, contact Drs. Jacob and Claire at Reignite Chiropractic to schedule an appointment and get started today!